Pet Grooming for All Dog & Cat Breeds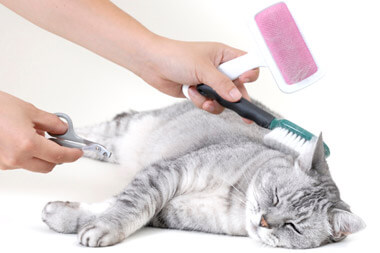 Blue Ravine Animal Hospital is pleased to offer professional grooming for all breeds of dogs and cats. In addition to improved appearance, maintaining your pet's skin and coat is an important aspect of your pet's overall health. Our standard grooming appointment includes:
Pet bath
Nail trims
Anal gland expression
Ear cleaning
Professional haircut, if desired
Medicated Pet Washing
In the event your pet is experiencing skin problems, we provide medicated baths. These may contain a flea treatment, tick treatment, or other specialty pet shampoo tailored to your pet.
Professional Groomer
Our experienced, gentle, and professional pet groomer has more than 25 years of experience. She will pamper your pet by providing a pet spa experience and have him or her looking great!
Pricing & Appointments
Our grooming prices are based on breed, size, type of cut, coat condition, and behavior. Pet grooming is by appointment only, and our groomer is available Monday through Friday. Pets should be dropped off for grooming between 7:30 a.m. and 9 a.m.
Additional Veterinary Services
Medical examination and services (except surgeries and dental cleanings) can be done on the same day as your pet's grooming service. We can vaccinate your pet during their grooming session, and you won't have to take time out of your busy schedule to make a separate appointment. All grooming patients are required to be current on their rabies vaccination.
Grooming is by appointment only. Please contact us to schedule your visit or to discuss your options with our groomer. We look forward to seeing you and your pet.