Veterinary Surgery Services for Cats & Dogs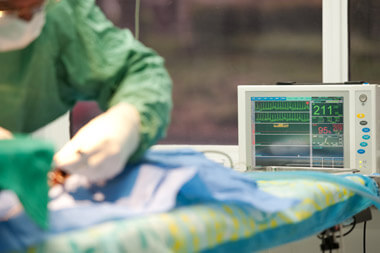 When the pet you love needs surgery, rest assured that our doctors are extremely well qualified to perform a wide range of surgical and dental procedures using state-of-the-art techniques and equipment. Our modern surgical suite provides for the performance of a wide variety of surgical procedures.
Veterinary Laser Surgery
Our carbon dioxide surgical laser produces an invisible beam of light, which heats and vaporizes tissue almost instantaneously without any physical contact. This is done so precisely that the normal surrounding tissues are hardly affected. Because of its lack of physical contact, the laser does not tear, crush, or bruise tissue. It is able to seal nerve endings and small blood vessels as it cuts. The combined effects of pet laser surgery provide the following benefits:
Less pain
Less bleeding
Less swelling
Reduced risk of infection
Rapid recovery
Most surgeries that are performed with a traditional surgical blade can alternatively be performed with these benefits with surgical laser.
Pain Management & Anesthesia
We use the safest available anesthetics to provide that extra margin of safety, especially for our older or high risk patients. We use Isoflurane and Sevoflorane as our inhalant anesthetics. We also have available several fast-acting injectable anesthetics for shorter procedures and rapid recovery times. We provide the best available pain medications, tailored to your individual pet's needs.
Anesthetic Monitoring Equipment
Anesthetized patients are closely observed by a trained veterinary technician and veterinarian. Our monitoring equipment is set to alert the vet and technician at the first sign of deviation from normal. Our monitoring equipment includes the following:
Pulse oximeter
Carbon dioxide monitor
Doppler blood pressure
Continuous ECG monitoring
Esophageal temperature monitoring
Heated Surgical Table
Our heated surgery table is designed to provide optimum body temperature throughout all surgical procedures.
Pet Surgery Procedures
At Blue Ravine Animal Hospital, we routinely perform a wide variety of surgical services. A sample of our common surgeries includes:
Spays and neuters
Obstetrics
Mass removals
Declaws
Bladder surgery/bladder stone removal—Cystotomy
Stomach and intestinal surgery—Enterotomy and gastrotomy
Ophthalmic and eyelid surgery—Repair of third eyelid eversion (cherry eye and entropion)
Uvilectomies—Palate trims
Orthopedic surgery—Cruciate ligament repair, patella luxation repair, hip problems, and most long bone fractures
In addition, we have board-certified surgeons on call for special or unusual procedures. This allows your pet to receive the benefits of a surgical specialist at the convenience of our location.
Please contact us to schedule an appointment. We are available to discuss questions you may have regarding your pet's surgery or our surgical offerings.