Give Your Kitten a Great Start Toward Lifelong Wellness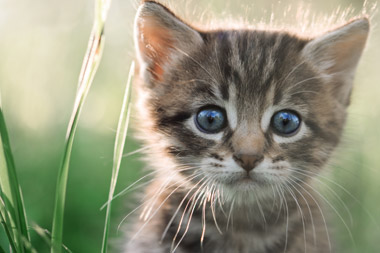 There's nothing more exciting than bringing home a new addition to your family, especially a kitten! The Kitten Wellness Care Program is designed to help you practice and maintain proper preventive health care for your new kitten and give him or her a great start toward a long, healthy life. For everything from kitten shots to a healthy diet and proper socialization, we are here to help with your new family member.
The first few months of your kitten's life are the time when he or she is most at risk from contagious diseases and parasites and in need of many vaccines. Regular veterinary care, vaccinations, socialization, and training advice are essential components to keep your newest family member as healthy as possible. To achieve this goal, we offer a Kitten Wellness Care Plan.
Kitten Wellness Care Plan Tailored to Meet Your Needs
Examination, vaccination, deworming, and parasite control should ideally begin when kittens are 6–8 weeks of age. If a kitten is younger, early examination and/or deworming may still be beneficial. Kittens should be seen at 3–4 week intervals until the age of 4 months. If vaccinations have begun for a kitten older than 4 months, boosters 3–4 weeks after initial vaccinations are still needed.
Kitten Wellness Care Plan
Our Kitten Wellness Care Plan includes the following:
Unlimited physical exams for 6 months from date of package purchase. Complete physical examinations help evaluate your kitten for any congenital abnormalities or other signs of illness as well as help initiate proper nutrition, socialization, and housetraining.
Core vaccinations —These are veterinarian recommended or required by law for all kittens.
Feline leukemia/feline immunodeficiency (FELV/FIV) test
Permanent microchip identification—This can be performed at any visit or during the spay/neuter surgery.
Up to two fecal exams —Used to screen for internal parasites.
Up to two dewormings
We Also Offer Pet Spaying or Neutering
For an additional charge, Blue Ravine Animal Hospital provides spaying and neutering services. Our onsite laboratory and advanced surgical suite are designed to perform superior veterinary surgery procedures. Your pet's safety and comfort are important to us, and our experienced veterinary team will monitor your pet throughout the procedure and recovery. During your kitten's wellness exam, we are available to discuss the procedure and the benefits to your pet.
We look forward to meeting the new addition to your family. Please contact us to schedule your kitten's wellness visit or to ask about the pricing for our wellness packages.